Meditation and Prayer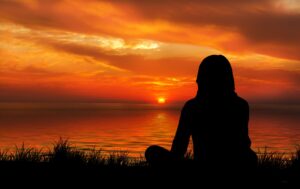 Meditation and prayer are often viewed from the outside as strange practices. To the skeptic, meditation is for flaky people with their heads "in the clouds." And prayer is for religious zealots relying on myths about a God who doesn't exist.
On the other side of the divide, those who regularly meditate or pray view skeptics as missing out on a powerful source of spiritual peace, mental clarity, improved emotional and physical health, and even wisdom and healing.
What Does Science Say?
While scientists admit the possibility of a placebo effect at work, scientific studies on the effects of spiritual prayer and/or secular meditation reveal clinically significant benefits for practitioners:
"Meditation has been found to produce a clinically significant reduction in resting as well as ambulatory blood pressure, to reduce heart rate, to result in cardiorespiratory synchronization, to alter levels of melatonin and serotonin, to suppress corticostriatal glutamatergic neurotransmission, to boost the immune response, to decrease the levels of reactive oxygen species as measured by ultraweak photon emission, to reduce stress and promote positive mood states, to reduce anxiety and pain and enhance self-esteem and to have a favorable influence on overall and spiritual quality of life in late-stage disease. Interestingly, spiritual meditation has been found to be superior to secular meditation and relaxation in terms of decrease in anxiety and improvement in positive mood, spiritual health, spiritual experiences and tolerance to pain." (See "Prayer and healing: A medical and scientific perspective on randomized controlled trials," by Chittaranjan Andrade, Professor of Psychopharmacology and Rajiv Radhakrishnan, Research Officer)
Meditation and prayer offer a path forward to a better way of life. Since the beginning of time, these simple but ancient practices have provided a source of peace and hope, a healing balm for mental and physical health, and a center of calm resolve in the midst of life's greatest upsets and tragedies.
This section of our website will feature journal entries and writings about the power of meditation and prayer. We encourage you to read and listen with a humble heart and open mind. At the very least, you will learn from those who are learning or have learned how to find peace and calm without the 21st century "solutions" that have failed so many.
It seems we can't find what you're looking for. Perhaps searching can help.